Under The Desk, Counter, Dash or Anywhere Tactical Gun Holster Any Gun Anywhere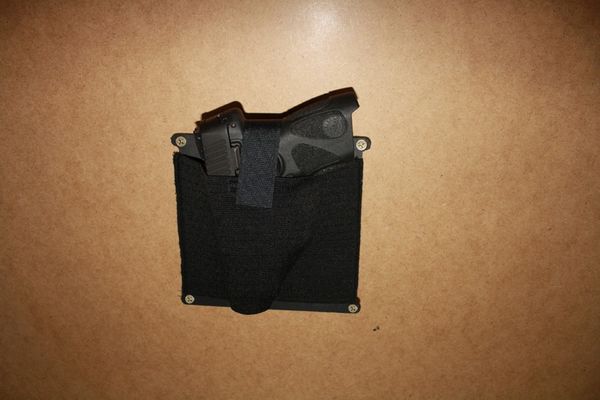 Under The Desk, Counter, Dash or Anywhere Tactical Gun Holster Any Gun Anywhere
The AlphaHolster Under The Desk Gun Tactical Holster can be mounted virtually anywhere. Our unique mounting system gives you more options than ever. Adhesive hook and pile (Velcro) lets you easily "peel and stick" the holster on almost any hard service. Order extra Velcro pads and use the same holster in multiple places. For a more secure placement the Alpha Holster can be screwed into position (screws included). Have your gun accessible in a holster under the desk, under the cash register, in the kitchen cabinets, under the night stand, under the bed, in the car, on the boat, in the RV/camper, in your tactical pack, on the gun safe gun safe door and more. The Alpha Holster is completely made in the USA and comes with a Money Back Guarantee.
Your Firearm Is Always In Reach: The Alpha Holster is perfect for holstering your firearm under the cash register, under the desk, on the kitchen cabinet door, on the console of the car truck or SUV, under the dashboard, in your tactical pack, On the inside of the gun safe door, behind the headboard of the bed, under the night stand, on the boat, in the camper, under the bar, in the tool box, behind the sofa, in the closet, and many more.
Easy Mounting & Perfect Placement: The Alpha Holster comes with two mounting systems 1) Adhesive back pressure sensitive Hook and Loop (Velcro). Simply peel the backing off the loop pad and adhere it to the hard surface, press the holster to the loop pad and adjust as needed. 2) Use the included screws to permanently mount the Alpha Holster.
Any Gun: The Alpha Holster is made with an elastic gun pouch which conforms to most pistols holstering the gun securely. The plastic backing maintains the holster's shape and provides rigidity.
Made In USA: The Alpha Holster is not only fabricated in our South Carolina factory but the materials used to produce it from the elastic to the plastic are made in the USA.