Cross Draw Belly Band Holster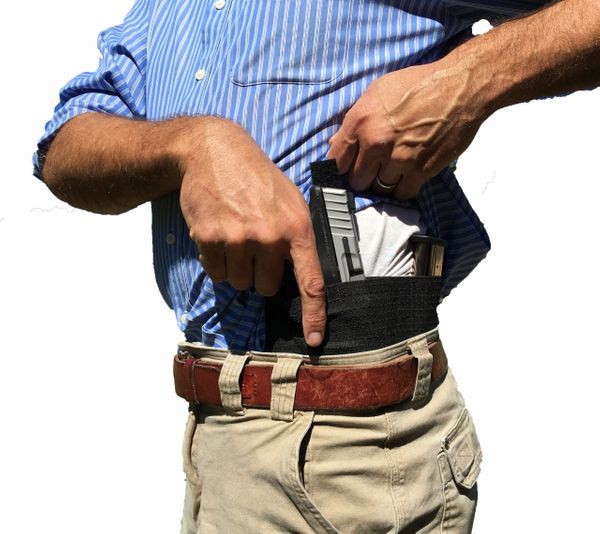 Cross Draw Belly Band Holster
Click here for video deminstration.
Gun pouch on both sides for right, left, or both hand draw
Fits most hand guns
Velcro (tm) closure
Gun grip faces forward so you draw across the body (right hand pulls from the left side and vice versa)
Size Guide (For correct size measure around the abdomen)
| | |
| --- | --- |
| Size | Measurement |
| Small | 28"-34" |
| Medium | 34"-40" |
| Large | 40"-46" |
| X-Large | 46"-52" |
| XX-Large | 52"-58" |
| XXX-Large | 58"-64" |

The AlphaHolster belly holster discreetly and securely holds your concealed hand gun close to the body under the clothes. When worn under a golf shirt or t-shirt you can't tell you are carrying, even when you wear your shirt tucked in. The AlphaHolster is made from patented ventilated elastic and secures in the front with Velcro. Your small to medium sized firearm fits snugly and securely into the pocket and there is a strap that fastens over the back of the gun. There are two additional holsters for extra magazines. This product is very lightweight, breathable, simple and secure. The belly holster Is made with a pocket on each side so it can be used for a left or right hand draw. The belly holster is set-up for a cross draw but can be worn for a side draw when turned on the body. Check out our other holsters for a behind the back carry, same side draw, ankle holster, and thigh holster. Made in USA.
Size Guide
---
For correct size measure around the abdomen
| | |
| --- | --- |
| Size | Measurement |
| Small | 28"-34" |
| Medium | 34"-40" |
| Large | 40"-46" |
| X-Large | 46"-52" |