Rifle Butt Stock Sleeve-Holds up to 20 Cartridges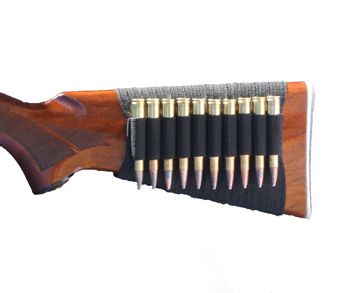 Rifle Butt Stock Sleeve-Holds up to 20 Cartridges
The AlphaHolster Butt Stock Rifle Cartridge Holster puts extra ammunition right where you need it allowing you, in most cases, to reload without even taking your eye off the sight. The holster has a capacity of 10 cartridges on each side of the butt stock. The Butt Stock Holster is made from 5 inch wide medical grade elastic that conforms to the rifle and stays in place. The ammunition loops are also made from elastic holding the shells in place until you need them for a fast reload.
Made in South Carolina USA by Alpha Medical LLC
Available in beige or black.